AFRDI
Australasian Furnishing Research and Development Institute
Advanta has a number of Australasian Furnishing Research and Development Institute (AFRDI) tested products. AFRDI operates a national system of quality testing and certification for furniture, furniture components and related products and materials, with the aim of lifting quality and longevity, safety, suitability for purpose and ultimately, benefiting sustainability through conservation of resources.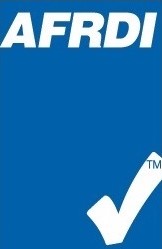 Product Stewardship End-of-life 'Take-back' Program 
Product stewardship recognises everyone involved in the production, supply and use of products and sharing responsibility for the environmental impact throughout a product's life cycle… from production through to disposal. It aims to avoid and reduce waste and increase recycling and resource recovery.
The vital initial step in the cycle is superior product design. Our products are designed and manufactured to withstand the demands of the commercial environment and the use of premium materials is meshed with the continuous addition of new features to extend our products' original life-span (First-life).
Advanta's Product Stewardship End-of-life 'Take-back' Program completes the eco-cycle and assists with the management and disposal of our products at the end of their useful life with the original user.
How does it work?
We will receive and dispose of products manufactured by us free of charge (certified products only) provided they are returned unassembled and in an uncontaminated condition within 5 years from delivery date. If transport to our premises is required, the charge for this service is on a 'not-for-profit' basis and the current price will be quoted on application.
This Product Stewardship End-of-life 'Take-back' Program is only available to the original purchaser of the product.
Returned products will be either re-sold at auction or donated to recognised charity organisations to continue their useful lifespan, or if unsaleable or beyond re-use, dismantled and have the components sorted by material and sent to approved commercial recycling outlets.
Download Program Certificate here
Product Stewardship End-of-life 'Take-back' Program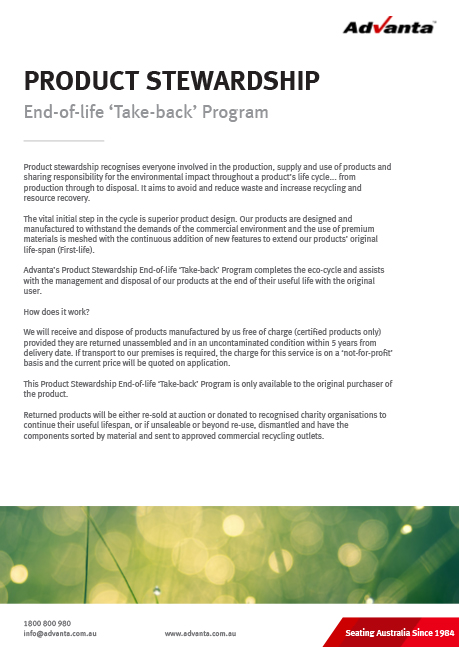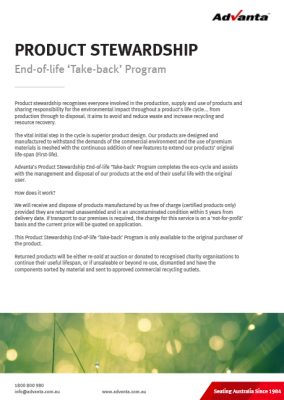 Read more about our Environmental Product Label here
or download the brochure:
Eco-Rated Environmental Product Label